July 18th, 2014

If you have visited my Cool Tools photo art gallery, you know that I have a strange interest in photographing both common and uncommon tools. In fact, there are 127 images in that gallery, ranging from the common hammer, to a frightening looking rip saw.




Long ago and far away, my husband was a building contractor, and therefore, an expert and collector of both household tools and major construction equipment. His skill and some of these items have invaluable for household repairs, while others havenít been used for many years.




You can imagine his amusement when he found me digging around in his tool box, and subsequently hauling dusty old equipment out of the garage.




Unsurprisingly, the older and more worn the equipment, the more dramatic and exciting the photo. Rusty, well used items were much more interesting, and I enjoyed the challenge of creating a pop art image, while maintaining the feeling of their history and character. With less used tools, I emphasized the beauty of their efficient design and emphasized their elegance and functionality, while looking for metal reflections and texture, when present.



--------------------------------------
You can view my entire Cool Tools gallery here: http://laurie-tsemak.artistwebsites.com/art/all/cool+tools+/all

July 18th, 2014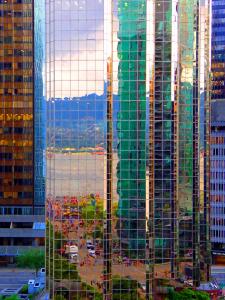 These photos were taken in Downtown Vancouver on July 1st (Canada Day). I was on the terrace on an upper floor at 3 Harbour Green, a beautiful residential highrise in the Coal Harbour area of Downtown Vancouver.




This vantage point allowed me to capture some superb city images, including fantastic reflections on neighbouring buildings and interesting street scenes.




This dramatic image below shows the building I am standing in reflecting the hotel across the street. It was perfectly suited to black and white treatment.




I was also able to get a bird's eye view of the streets below, and captured some artistic food truck images:




I had a wonderful Canada Day, mixing art with celebration!

You can view my Downtown Reflections Gallery here: http://laurie-tsemak.artistwebsites.com/art/all/downtown+reflections/all
July 18th, 2014


I love Industrial style; it erases the line between trash and treasure and reveals beauty in everyday flotsam. More or less every man-made object around you is the result of an industrial designers skill and talent whether it be a table or useable gadget like a food mixer. Singular finds with emphatic lines and forms, from old parking meters and typewriter tables to overscale bolts and gears, give the look its characteristic strength. And if they look a little shopworn (or a lot), so much the better!




Industrial photography can be challenging, though, as it usually involves taking shots of large objects that are difficult to frame. These photographs are generally of products, equipment and machinery. While I often see the beauty in these items ďas isĒ, it is necessary to make the photographs into enticing images, so that they can be appreciated by a wider audience.




When conditions permit, I like to capture a broad shot of a large machine or process. I also like up close macro shots, showing individual parts of the machine. These macros may not fully identify the machine but showcasing individual parts of the machine often create unique images.

So here are a few considerations when photographing on site at industrial locations:

Exposure technique - This can be challenging. You need to assess the brightness of the light. It really makes things easier when I find my favourite conditions outdoor, just before sundown.




If possible, visit the area before the actual shoot: Get familiar with the object and itís surrounding by visiting and asking the manager to give you access to area. Admittedly, many of my photos have been taken on the fly, as opportunity presents itself. This has often meant shooting through wire fences and encountering security guards. Trust me, getting permission in advance of your shoot is always a less stressful option.




Equipment - A tripod is a must for such shoots. I keep a full size and a flexible mini tripod in the car. These can be invaluable on site. If there is no way to shoot with a tripod, then ensure that you place the camera on a surface where it will not shift and there will be no camera shakes. This is important as many machines feature very straight lines that even a slightly tilted camera can distort so that they look strange.

Color and Contrast - Shooting machines, both old and new can be difficult if you fail to identify the exact way you should shoot it. When dealing with older, typically non functioning or rundown machines, you will have a series of black and browns due to rust and old iron workings. Together these colors and the shape of the machine can create an old industrial abandoned look, through a strong contrast. Newer machines however are slightly different than older machine. While the older machines tend to get their contrast through a mixture of colors and shapes, newer machines typically follow a fairly uniform color scheme and retain a sleek design. This means that when shooting newer machines, and in the absence of the character of wear, I look to emphasize the geometry and functionality of the modern design.

As you can see by my work, overall, I prefer older machines for their gruff and grungy look. I find it particularly satisfying to create images which bring out the aesthetics and interest in manufactured items.